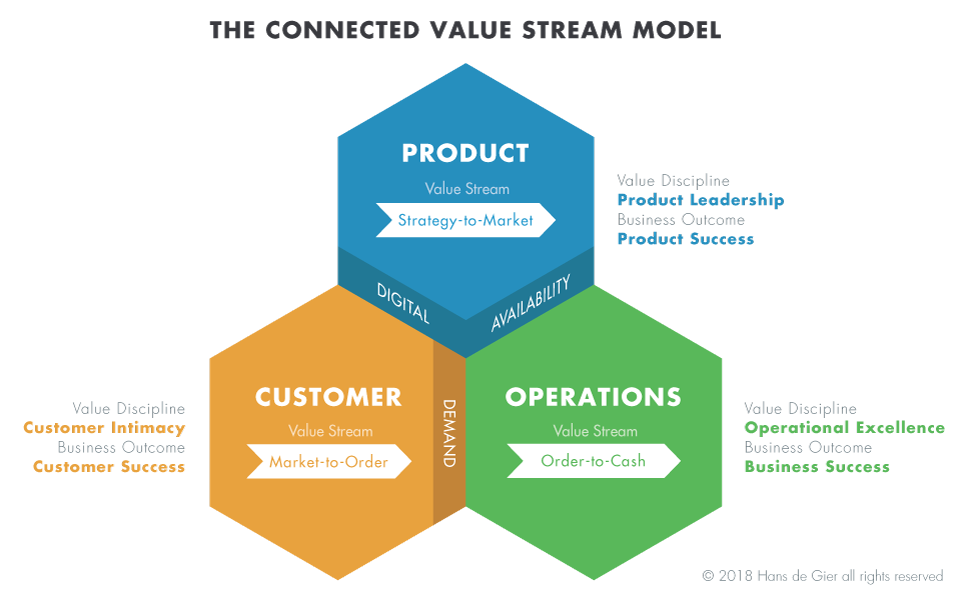 Generating revenue as a manufacturer is a simple process at its core:
First, develop products that customers want to buy

Next, convince them to purchase it and make it easy to buy

Finally, produce and deliver the goods and collect the money
This is what we at SyncForce call the Connected Value Stream Model©. Each value stream represents a part of the business that has its own processes and culture. People who work in production and distribution have a different mindset and way of working than those in charge of promoting and selling the product. Product people have their own lingo and way of looking at the world.
Digitalisation since the 1970s
The first wave of digitalisation in manufacturing started with automation of the Order-to-Cash value stream. In the 1970s, manufacturers started managing business functions within a centralised and integrated system. In the decades that followed, ERP software unified many of the systems in the Order-to-Cash value stream, with lean manufacturing as the main theme. Vendors such as SAP and Oracle integrated systems that used to exist as stand-alone functions, from order management to human resources, procurement, warehouse management, and finance & accounting.
In the past decade, the internet revolutionised the customer journey. Large organisations gradually integrated all the Market-to-Order processes into one single software suite. The Salesforce Customer Success Platform covers not only CRM but also lead management, social listening, digital marketing, customer service and (since the acquisition of Demandware in 2016 and CloudCraze in 2018) also B2C and B2B commerce. Indeed, one platform has everything you need to turn potential customers into recurring customers.
Driven by digital commerce, now organisations feel the need to harmonize product development & roll-out within a centralised and integrated system. Sure, there still are many point solutions for Product Information Management (PIM), Digital Asset Management (DAM), Marketing Asset Management (MAM), Project Portfolio Management (PPM), Label & Artwork Management (LAM) and so forth, but a fully integrated production solution remains the sought-after holy grail.
Best of breed or integrated?
Many businesses are facing the same dilemma on a production level that they used to have in sales and finance: should we go best of breed or integrated? Do we use different solutions for every process, or is there one system that covers everything?
How did SAP eventually manage to dominate the Order-to-Cash value stream? And why are so many organisations now using Salesforce in the Market-to-Order value stream? The main reason is this: it can be extremely time-consuming and frustrating to integrate and manage multiple solutions. Every single application in a value stream makes use of inputs and outputs from multiple other point solutions – often through API's. While tying them together is a nightmare for IT departments, using multiple systems which are all designed and build differently is a big struggle for the business users.
The past few decades have taught us that integrated eventually beats the crap out of best of breed when it comes to business software. That is why we aim to help packaged goods manufacturers to completely and efficiently manage the entire Strategy-to-Market value stream in all 3 stages:
Strategy-to-Roadmap

means supporting roadmap & business planning, building a business case, getting the necessary funding and resources for R&D, planning the development project and, finally, getting project approval.

In the

Roadmap-to-Product

stage, SyncForce supports not only planning but also Label & Artwork Approval and the centralisation of Product Information & Digital Assets as an integral part of product development.

Bringing the

Product-to-Market

ultimately requires the ability to access product information internally, listing products in consumer touch points and distributing information across customer groups & data channels.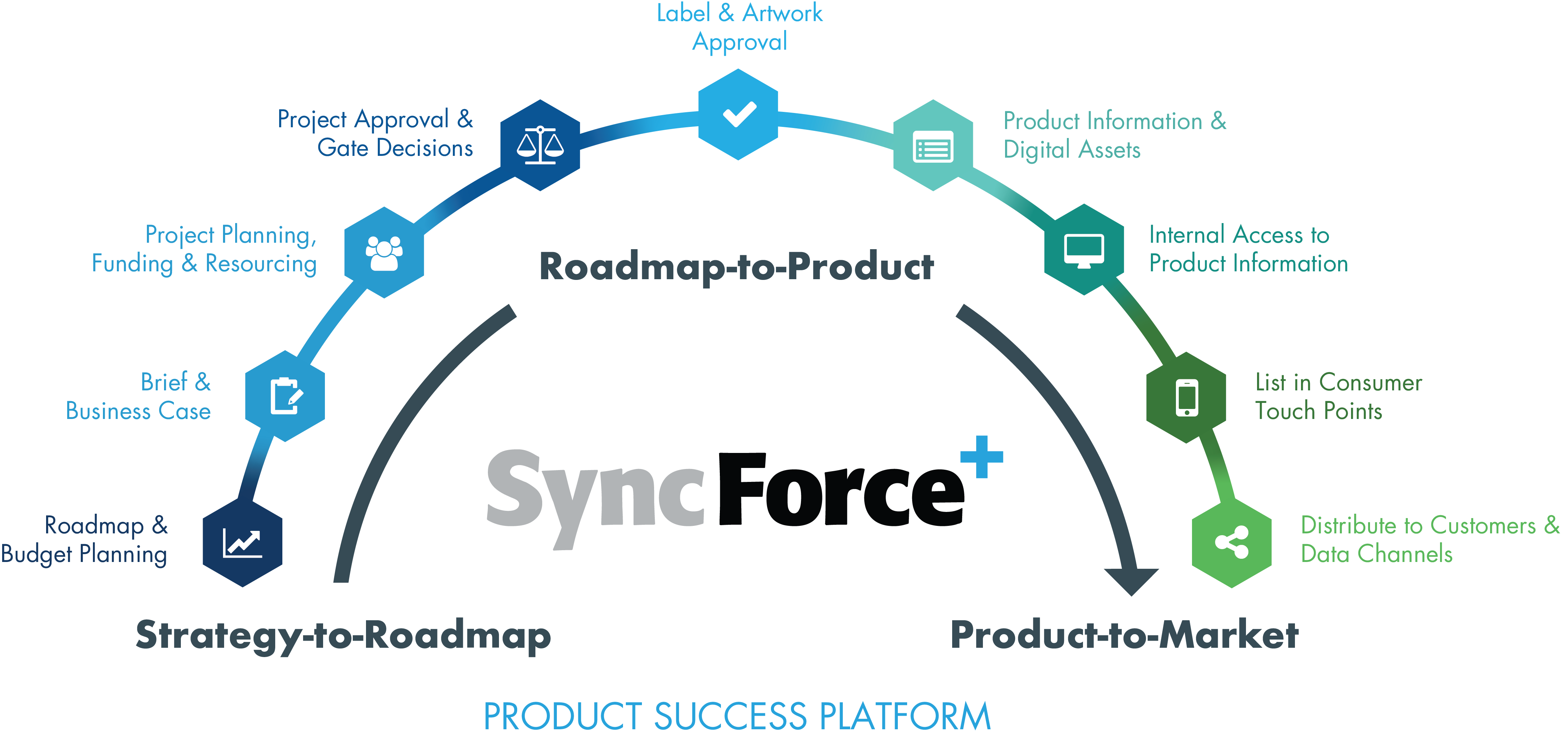 Only an integrated system can drive product success in the Strategy-to-Market value stream.
Where does integration stop?
So, why does software integration stop at the end of a value stream? Why have three integrated approaches – one per value stream – instead of one super solution covering all everything from Strategy-to-Cash? The answer is simple. Each value stream represents a different culture, mindset, and way of working. The departments responsible for Order-to-Cash have operational excellence as a discipline, also known as 'lean manufacturing'; being successful means being efficient and reliable. Those who work in the realms of Market-to-Order focus on customer intimacy as their value discipline. In Strategy-to-Market the focus is on physical and digital product leadership.
The reason why it makes perfect sense to work with one integrated platform for each of these value streams is logical: every stream ends in a concrete, simple outcome that actually brings value to the organisation.
Products that are active in the market

Orders from direct customers like retailers and wholesalers) and indirect customers like consumers

Cash
This makes connecting platforms between those value streams relatively easy while connecting systems within a value stream is a very complex task. That is why every manufacturer selects and ERP platform (like SAP, Oracle or Infor) for Order-to-Cash instead of a best of breed approach.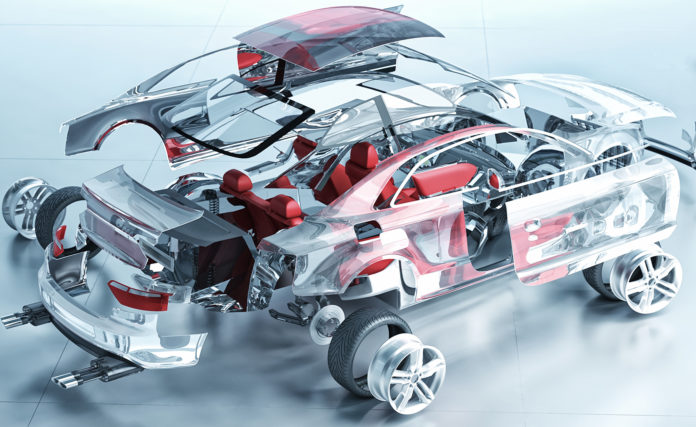 For your IT landscape, it makes sense to have the product and the point of purchase as a natural ending and beginning of value streams. You could compare connecting value stream platforms with connecting a car to a caravan, which is much easier than connecting all functions in a car (let alone that all separate car parts have limited value when purchased stand-alone). No one buys a car piecemeal, selecting wheels, a steering wheel, doors, and undercarriage. They buy a car. It's a product with a beginning, an end, and a clear outcome: a vehicle that will get you from A to B. If you later decide to add a holiday accommodation, you look to buy a caravan. Once you have this new goal, you discover a new need for your car. Without a tow bar, the caravan is useless. If your car has a tow bar, though, you don't need to be a mechanic to tie a caravan to a car.
The same is true of tying product success platforms like SyncForce to customer success platforms like Salesforce or business success platforms like SAP.
In our view, every packaged goods manufacturer needs a product success platform that provides digital availability to both other platforms, as the foundation for success.