Many of our clients increasingly struggle with designing and maintaining their information flow and related system landscape. Digitisation of supply chains, marketing operations and sales (eCommerce) is the main driver behind this increasing complexity.
That's why I developed a new model to distinguish and align initiatives within any packaged goods manufacturing organisation: the Connected Value Stream Model. This model covers the three core elements for any packaged goods manufacturer:
Product portfolio

Customers, direct and indirect

Operations
These three core elements each have their own value stream. A value stream is the set of all steps from the start of your value creation through the delivery of an end result that actually has value (outcome).
There are three connected value streams in packaged goods manufacturing:
Strategy-to-Market: delivering digital product availability

Market-to-Order: delivering demand

Order-to-Cash: delivering money in the bank
The Connected Value Stream Model© can be used to drive multiple improvement initiatives, each focussing on a different value discipline and related business outcome: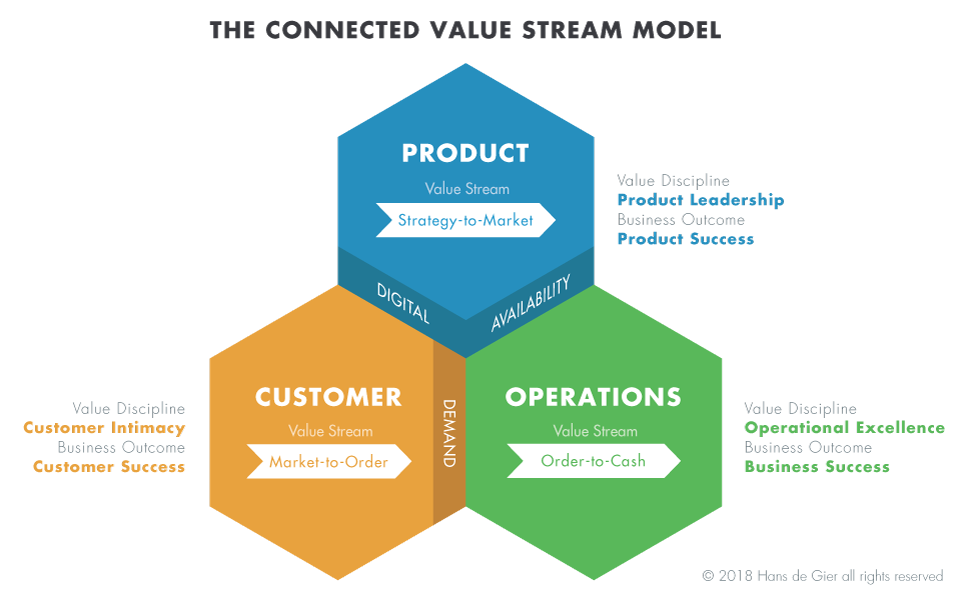 Internally, we use the Connected Value Stream Model as our compass. Our only focus is 'Strategy-to-Market', which results in one important question for everything we do: How will this contribute to Product Success? Together with our customers, we are constantly looking for ways to improve the three subprocesses that constitute Strategy-to-Market:
Strategy-to-Roadmap (make better and faster portfolio decisions)

Roadmap-to-Product (reduce time to develop products, digital & physical)

Product-to-Market (reduce time to list products in every point of sale, online and offline)
While we have a clear focus on Strategy-to-Market, different solutions are needed to support the other two value streams. Market-to-Order, for example, is about creating a seamless customer journey. In this area, you see the rise of customer success platforms like Salesforce that combine Sales (CRM) with marketing and eCommerce capabilities, so that all steps in the customer journey can be supported: one customer, one seamless customer experience!  
Order-to-Cash is most likely the best known value stream and the typical domain of ERP vendors like SAP, Oracle and Infor.
The Connected Value Stream Model can also help to map all business process improvements or system implementation initiatives and can provide insights into:
Which success will this initiative contribute to: product, customer, and/or business?

How are initiatives connected?

What is the overlap between initiatives?

Are there still gaps that we overlooked?