(And you probably aren't handling it very well)
The two dominant forces in the world of packaged goods manufacturers today are globalisation and digitalisation. You might think that those two trends combined would result in a higher level of standardisation, for example in the way product information is shared. In reality, the opposite seems to be the case.
Getting content into digital channels is rapidly evolving to be the key challenge most manufacturers face today. Some manufacturers even have teams of 30 to 40 employees that spend all of their time on delivering the right digital content to retailers in the right format.
The answer to this challenge is product content syndication. Implemented well, content syndication can take care of providing complete and correct product portfolio content (product information and digital assets) to all your customers. Content syndication holds the promise of being the industry's 'Babel Fish' – translating product information to any required format, including rich content like photography and video.
Babel Fish
For those who haven't read The Hitchhiker's Guide to the Galaxy (or seen the movie): the Babel Fish is an imaginary fish from outer space that translates any language to any other. All you have to do is put it in your ear, and you will be able to have conversations with anyone in the entire universe.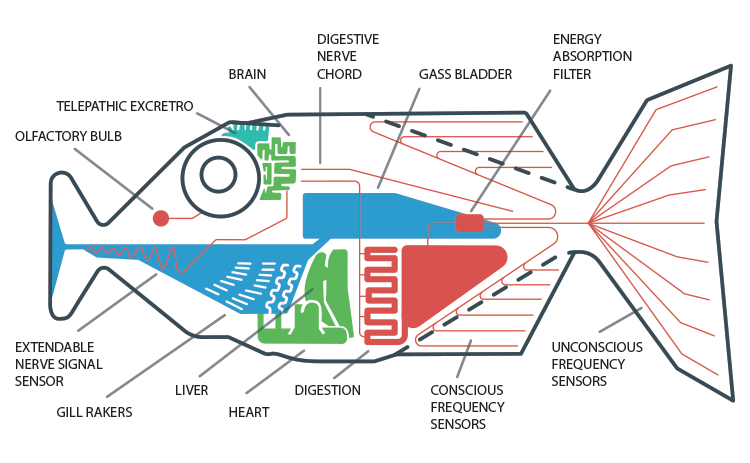 The Babel Fish is and will always remain science fiction. But the lack of an international standard in sharing product information means that the manufacturing industry needs a solution just like it. The explosion of digital retail channels (new marketplaces, mobile apps, data pools and D2C initiatives) requires packaged goods manufacturers to handle an equally large amount of different data formats. Several departments have to deal with this: not only customer service, but also trade marketers and digital merchandisers. Your customers may even refuse shipments or send fines if the digital product was not delivered before the physical product. On top of that, online channels ask for unique, rich content in order to differentiate from the competition.
As if the digital data challenge wasn't hard enough in itself.
What is content syndication?
What if there was a digital Babel Fish that could deliver all portfolio content to all digital channels in the format they require, when they require it? In an ideal world, this would result in five business benefits:
Products would be listed on the digital shelf correctly and on time

Higher conversion due to rich content, appropriate for each channel

An increase in customer satisfaction, simply because the product information would enable consumers and professionals to buy the right product

A competitive advantage, due to the fact that your products would be supported by better content than those of your competitors (and therefore easier to find)

An optimised physical supply chain thanks to data-driven warehouse and shelf planning
Content syndication is, in short, a promise to diminish the human overload and avoid incomplete and non-validated listings on digital shelves. Syndication is a requirement for product success, and the way things are now, the rules of the game are dictated by retailers. Due to the lack of an international standard, every retailer chooses their own data network or broker, like GS1-GDSN, 2BA, Brandbank or Webcollage. Some might even work with their own supplier standards, like an API or an Excel sheet in which manufacturers are required to enter product data.
As a manufacturer, you have two choices: you meet these demands, or you're left out.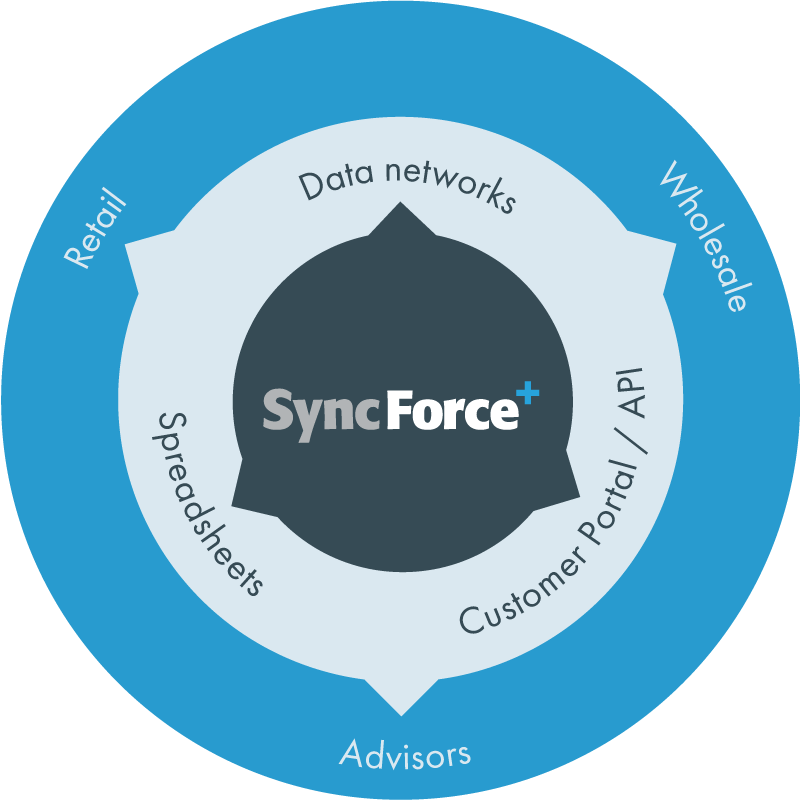 The answer? One central data engine
There is only one way to tackle this issue – by taking back control as a manufacturer. Sure, there are so many different ways in which retailers and wholesalers demand information. That doesn't mean, however, that your portfolio information can't be consistent and complete at the core.
SyncForce provides a syndication engine that gives you the ability to distribute correct and complete content to all your customers, at every maturity level. This makes it easier to get products listed in all digital channels, quickly and compliantly. New or revised products get listed with just one click of a button in all channels, systems and media, without delay.
And it gets better: the requirements of data networks, retailers and wholesalers are built into our system, and we keep them constantly updated. You can instantly know when your product content is ready for every endpoint – be it a data pool, an Excel spreadsheet or an API.
Our solution supports multiple ways of syndication:
Via Data Networks or Data Pools like for example GS1-GDSN, 2BA, PS In Foodservice, SIM and IB.

Via spreadsheets contain all relevant products including all key digital assets. Can be scheduled by your trade marketeers or merchandisers to make sure customers get up-to-date information on a weekly or monthly basis.

Direct to customer APIs/Customer portals, contain only their products and can include price information and commercial conditions.
Most of our clients are using SyncForce Syndication to drive digital business, including Zwanenberg Food Group, Brabantia and Wavin.
So, is our content syndication engine the Babel Fish that solves all data compatibility issues? Not entirely, since it doesn't automatically recognise required data formats as the Babel Fish recognises a language from another country or planet. But once the syndication engine is configured for your products – according to the needs of all of your digital channels, it comes as close as it gets.